Product Number:

TTE10033.3

Upgrade Your Turbo:

Please fill out UPGRADE TURBOCHARGER FORM below.
AUDI TTRS 8J / RS3 8P, 8V.1 / RS Q3 2.5TFSI TTE700 UPGRADE TURBOCHARGER ...
more
Product information "TTE700 2.5TFSI CZGB / CEPA UPGRADE TURBOCHARGER"
AUDI TTRS 8J / RS3 8P, 8V.1 / RS Q3 2.5TFSI TTE700 UPGRADE TURBOCHARGER
Introducing our TTE700 performance turbocharger based on the original EA855 DAZA turbocharger to new higher output specification for fitment to the older generation cars. Offering an upgrade to over 600PS on pump petrol.
Engineered & Enhanced

At the core of our TTE700 is a much larger TTE compressor wheel, chosen because it is highly efficient and creates an extremely high flow for comparative size. Re-Profiled compressor cover to optimised tolerance to ensure maximum compressor efficiency is given.

We CNC mill the exhaust turbine housing to accept a larger turbine and shaft.

Special profile 360 deg high-performance motorsport journal bearing is fitted, to remain durable at higher loads with no loss in transient response. The actuator used is sprung OE unit
If ordering new, we use the latest generation of BorgWarner original turbochargers with the latest spec Audi thermal heat isolation shielding on the exhaust manifold & turbine housing to lower engine bay temperatures and ensure the best performance and safety.
Please note if you send an older generation turbo, without the original AUDI thermal shielding for the "upgrade" process, we will rework your turbo and return without the shielding, unless you buy the extra thermal Isolation process
We cannot upgrade the ORIGINAL K16 CEPA OR CZGB Turbo to this stage, Biggest possible for the K16 is the TTE500+ Upgrade Turbocharger

Equilibrium

Precisely balancing our turbochargers is a key critical factor to become a TTE upgrade unit as longevity and performance are paramount. Good balance improves acoustics also. Subsequent great care is taken with all TTE turbochargers to achieving our balance standards. Firstly parts are balanced at slow speeds up to 2800RPM in multiple planes using our single parts machine, then components are assembled and then the CHRA are dynamically balanced, but this time depending on application at up to 250,000 RPM in multiple planes using our in-house VSR machine to acquire the ultimate equilibrium, to a standard far higher than OEM. Each turbocharger is supplied with a serial numbered balance test result document.


Genuine BorgWarner turbocharger as base part

TTE Billet Highly efficient compressor geometry

TTE 9 Blade high-flow low-mass turbine

TTE Upgrade bearing pack

Genuine BorgWarner Uprated & reinforced actuator

Thermally shielded exhaust manifold and housing

CNC Optimized Compressor Cover Machining Clearances

600+ PS depending on the fuel

Single parts finely balanced then components assembled and core high-speed VSR balanced

Supplied with a balance test result document

Proven TheTurboEngineers quality

Made in Germany

This turbocharger is far from Plug&Play fitment. Fabrication skill and adaption or custom parts are required.
Please check out our TTE HEAT SHIELD ISOLATION ADD-ON option that's available.
The "Upgrade Your Turbocharger" turbocharger option is based on the new-gen 2.5TFSI EA855 DAZA original turbocharger being sent not the older generation K16.
This turbocharger requires specific custom components for installation, it is NOT Plug & Play: For Right & Left-hand drive cars a fitting kit solution is available HERE
Please contact us for further fitting info : info@sharp-motorsport.co.uk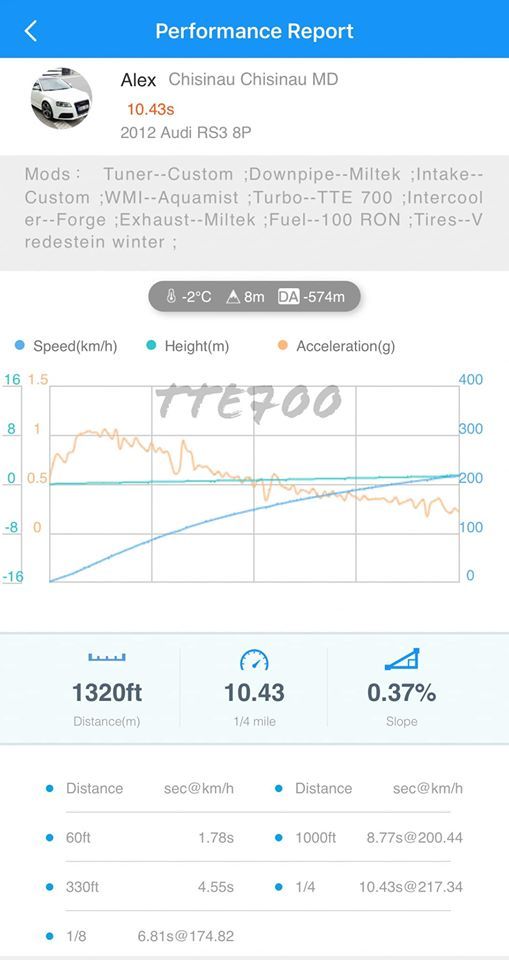 Audi RS3 8V 2.5 TFSI 376pk Quattro
OEM Specs: 376pk & 465Nm
JD Stage 4: 652pk & 765Nm
Specs:
TheTurboEngineers TTE700 Turbo
Milltek Sport Full exhaust with 200cells sportcat
Wagner Tuning Evo 3 Intercooler
Sar- Turbotechnik 3.5 inch intake pipe
HPFP upgrade pump
K&N Panel filter
Go Fast Bits Europe GFB DV+
JDEngineering Engine Stage 4 software remap
JDEngineering DSG gearbox Stage 3 software remap
JDEngineering Pops and bangs software
Firezone Competition RON102 fuel
WE HIGHLY RECOMMEND THE STOCK RS SPORTS EXHAUST SYSTEM IS REPLACED FOR A MORE FREE-FLOWING SYSTEM IF WANTING OVER 600HP DUE TO BACKPRESSURE
For more results CLICK THIS LINK
Important Upgrade Turbocharger Information - Sending Your Turbocharger

After you have ordered the upgrade from the online store by selecting 'Upgrade Your Turbocharger" option in the drop down box on the product page please download the 'Upgrade Turbocharger Form' at the bottom of the product page. Visit this Link
If sending turbocharger/s for an upgrade please ensure you print, read and complete this FORM. Place form inside the package with turbocharger/s.

Related links to "TTE700 2.5TFSI CZGB / CEPA UPGRADE TURBOCHARGER"
Available downloads:
Info "TTE700 2.5TFSI CZGB / CEPA UPGRADE TURBOCHARGER"
Please Note: We constantly review, revise and improve our product range, the product you receive may differ from the images advertised.
Read, write and discuss reviews...
more
Customer Review for "TTE700 2.5TFSI CZGB / CEPA UPGRADE TURBOCHARGER"
Write an Review
Reviews will be activated after verification.