Product Number:

TTE10295

Upgrade Your Turbo:

YOU WILL BE EMAILED INSTRUCTIONS AND PACKING SLIP FOR SENDING YOUR TURBOCHARGER/S AFTER CHECKOUT.
VAG 2.0 / 1.8TSI EA888.3 MQB TTE555...
more
Product information "TTE555 IS38 UPGRADE TURBOCHARGER"
VAG 2.0 / 1.8TSI EA888.3 MQB TTE555 UPGRADE TURBOCHARGER
TTE555 is our very latest hybrid performance upgrade turbocharger based on the Original IHI IS38 turbocharger for the 3rd generation VAG 2.0TSI. Stage 3+ power, with good spool and response. We feel this is the strongest performing hybrid IS38 available on offer.

Engineered & Enhanced EA888 Gen 3 - IS38

To construct a TTE555 we change the original compressor and employ a far larger and more efficient billet wheel with extended tip technology and mill the compressor cover to the optimum gap to match the new compressor profile. We replace the original IS38 turbine and CNC mill the turbine housing to install a larger lightweight 9 blade turbine for greater gas flow. We also replace the original thrust bearing for TTE upgrade 360 deg that is made in-house.

We also fit our TTE CNC Billet silencer delete, removing any restriction and its function as a noise-canceling device, and so improving the flow & response and enhancing the sound.
The 9 Blade TTE turbine is a special turbine designed by TheTurboEngineers. Advantages are greater gas flow, reducing back pressure and lowering exhaust gas temperatures, allowing safer higher boost levels. This turbine is extremely light in mass so giving a reduced moment of inertia, meaning fast spool up for the size.
Equilibrium

Precisely balancing our turbochargers is a key critical factor to become a TTE upgrade unit as longevity and performance are paramount. Good balance improves acoustics also. Subsequent great care is taken with all TTE turbochargers to achieving our balance standards. Firstly parts are balanced at slow speeds up to 2800RPM in multiple planes using our single parts machine, then components are assembled, and then the CHRA are dynamically balanced, but this time depending on the application at up to 250,000 RPM in multiple planes using our in house VSR machine to acquire the ultimate equilibrium, to a standard far higher than OEM. Each turbocharger is supplied with a serial numbered balance test result document.
Product Highlights:
Original Genuine IS38 IHI turbocharger as the base part
Original Genuine actuator
Original Genuine diverter valve
TTE Billet Milled compressor 7+7 Blade 55mm Inlet
TTE High-Flow Low- Mass 9 Blade Turbine 53mm Outlet
TTE CNC Billet silencer delete
Reinforced bearing pack
Plug and Play installation as IS38 turbocharger
580PS+ proven
Proven TheTurboEngineers quality
Single parts finely balanced then components assembled and core high-speed VSR balanced
Supplied with a balance test result document
Software recalibration is required
Made in Germany
Actuator Selection: Please note on certain generations of cars there was a turbocharger actuator revision please select your correct type.
IF SENDING A TURBOCHARGER BE SURE TO CHECK IS AN OEM GENUINE IHI IS38
Please check out our TTE HEAT SHIELD ISOLATION ADD-ON option that's available.
Vehicle Selection: Please note on certain generations of cars there was a turbocharger actuator revision. Please use the vehicle selection box. If the car is not listed please let us know in the comments box at check out: model & year
Please note if sending a used turbocharger for the upgrade process. TTE does not recondition the Electronic actuator or Diverter you send. Your sent items will be re-installed. Turbos must be sent complete(actuator, silencer) Do not send your diverter valve. IT IS RECOMMENDED A NEW DIVERTER VALVE IS FITTED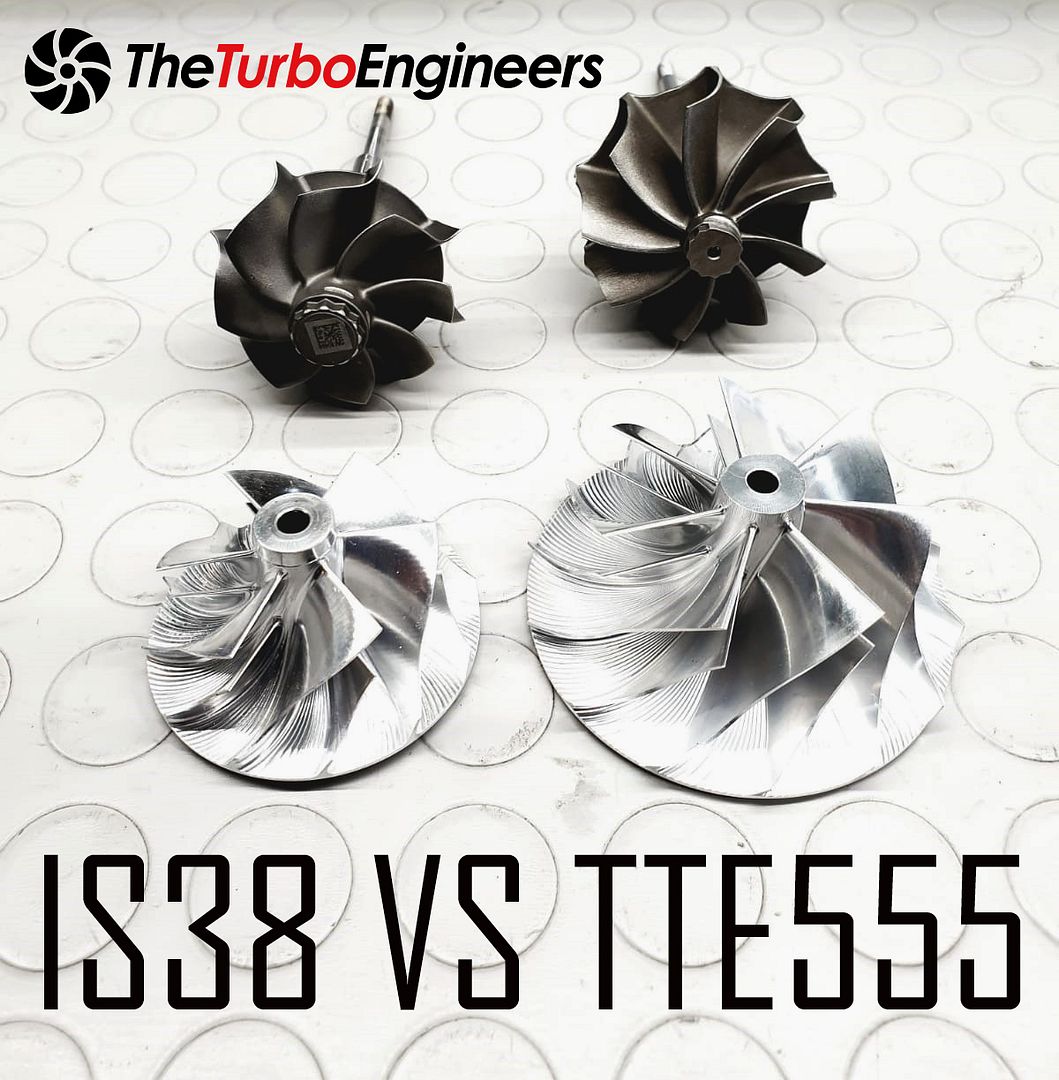 Seat Cupra TTE555 MTR PERFORMANCE Software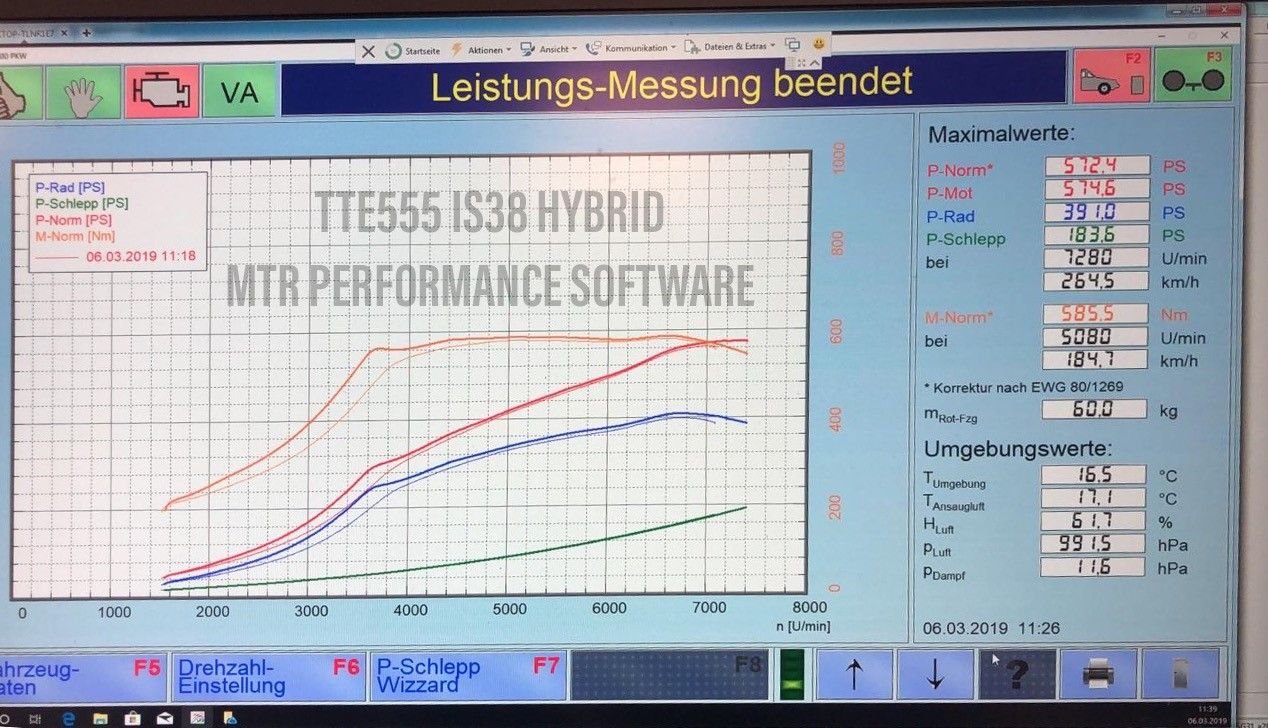 Paul's VW Golf 7R TTE555 MRC Tuning software
MTA VW GOLF 7.5 R
98ron & wmi (for high abient temps in HongKong)
Torque below 580Nm and Hp capped so are not pushing the limits of the Standard motor
GOLF 7R TTE555 SPARKLOAD
10.2 1/4 MILE
MORE DYNOS & RESULTS CLICK HERE
Related links to "TTE555 IS38 UPGRADE TURBOCHARGER"
Available downloads:
Read, write and discuss reviews...
more
Customer Review for "TTE555 IS38 UPGRADE TURBOCHARGER"
Write an Review
Reviews will be activated after verification.