Product Number:

TTE10316.1
TTE777 EVO 2.5TFSI UPGRADE HYBRID TURBOCHARGER FOR ...
more
Product information "TTE777 EVO 2.5TFSI UPGRADE TURBOCHARGER"
TTE777 EVO 2.5TFSI UPGRADE HYBRID TURBOCHARGER FOR RS3 8V.2 & 8Y / TTRS 8S DAZA, DNWA, DNWC
A TTE777 Is an original RS3 8V.2/TTRS 8S turbocharger for the DAZA & DNWA 2.5 TFSI EVO engine that we the THETURBOENGINEERS Rework to make a class-leading performance hybrid, yet still being plug & play fitting with an upgrade inlet.
The TTE777 Hybrid turbocharger was the evolution of our highly acclaimed TTE700. Using some key features like a bigger billet compressor and CNC porting and other gas flow improvements.
The compressor wheel is exchanged for a milled aluminum wheel with state-of-the-art geometry, 7+7 blade so producing extra power that is even bigger then the TTE700 compressor wheel. Equally, we change the original exhaust turbine for a far larger but very lightweight 9 blade TTE designed turbine, for lower exhaust gas backpressure, giving greater performance. We also fitted a proven TTE motorsport upgrade bearing system for durability.
Boost response as always is focused on when we were designing this unit and it does not disappoint.
With the TTE777 stage we have CNC ported the exhaust manifold to match the OEM gasket at the head flange and smooth the transition in each exhaust runner to improve gas speed and flow, so improving efficiency to the much bigger 9 blade low mass turbine and so driving the larger compressor harder. We also made other power modifications with regards to the turbine side of the TTE777 unit to increase gas flow.
If ordering new, we use the latest generation of BorgWarner original turbochargers with the latest spec Audi thermal heat isolation shielding on the exhaust manifold & turbine housing to lower engine bay temperatures and ensure the best performance and safety.
Please note if you send an older generation turbo, without the original AUDI thermal shielding for the "upgrade" process, we will rework your turbo and return without the shielding, unless you buy the extra thermal Isolation process. Depending on stock availability we may substitute TTE thermal shielding and give AUDI original thermal shielding instead.
Equilibrium
Precisely balancing our turbochargers is a key critical factor to become a TTE upgrade unit as longevity and performance are paramount. Good balance improves acoustics also. Subsequent great care is taken with all TTE turbochargers to achieving our balance standards. Firstly parts are balanced at slow speeds up to 2800RPM in multiple planes using our single parts machine, then components are assembled, and then the CHRA are dynamically balanced, but this time depending on the application at up to 250,000 RPM in multiple planes using our in house VSR machine to acquire the ultimate equilibrium, to a standard far higher than OEM. Each turbocharger is supplied with a serial numbered balance test result document.
Features :
TTE Billet Highly efficient compressor geometry

66MM Inlet approx
TTE 9 Blade High-flow Low-mass turbine
TTE Upgrade bearing pack
Genuine BorgWarner Turbocharger as the base part
Genuine BorgWarner actuator
Thermally shielded exhaust manifold and housing
CNC Optimized Compressor Cover Machining Clearances
CNC ported manifold
Plug and Play Installation
590WHP & 650Hp crank proven on 98ron(USA 93) / 700HP+ crank on 102Ron / 850HP+ using E85 Fuel
Single parts finely balanced then components assembled and core high-speed VSR balanced
Supplied with a balance test result document
Software recalibration is required
Proven TheTurboEngineers quality
Made in Germany
From time to time when buying new, we might supply the upgrade TTE thermal isolation free of charge if AUDI OEM heat shielded units are not available.
Please check out our TTE HEAT SHIELD ISOLATION ADD-ON option that's available.
UNITRONIC AND APR 4" TURBO INLET ELBOW is recommended for Left-Hand drive customers only
FORGE MOTORSPORT TURBO INLET IS RECOMMENDED FOR RIGHT-HAND DRIVE CARS
WE HIGHLY RECOMMEND THE STOCK & RS SPORTS EXHAUST SYSTEM IS REPLACED FOR A MORE FREE-FLOWING SYSTEM IF WANTING OVER 600HP DUE TO BACKPRESSURE ISSUES. MILLTEK V2 90MM IS RECOMMENDED
WAGNER EVO3 INTERCOOLER SHOULD NOT BE USED ! (ONLY RECOMMEDED UPTO 600HP) EVO3 X IS THE WAGNER 600+HP INTERCOOLER
New world record turbo for a hybrid turbo on 2.5TFSI
And the first 5-cylinder AUDI to run in 8 seconds with a hybrid turbo & the fastest Audi in Canada


TTE777
Turbo & Unironic software
0-60 mph 1,91 sec
0-200 km/h. 5,74 sec
100 - 200 km/h. 3,69 sec
60-130 mph. 4.27 sec
1/8 mile 5.70@123 mph
1/4 mile 8,87@156mph
KSF MOTORSPORT USING E85 FUEL 2.4BAR
VANCITY AUDI RS3 TTE777 UNITRONIC SOFTWARE
UNITRONIC TTE777 SOFTWARE CLICK HERE
TTE GOLF 7R 2.5 DAZA MTR PERFOMANCE SOFTWARE
2600RPM 500NM Torque / 3500RPM 900nm
Shannon's TTRS TTE777 Unitronic stage 3
Audi RS3 2.5 TFSi DAZA 400 HP @ DVX 724 HP / 867 NM
Stock: 400.0 HP / 480.0 Nm
DVX 724 HP / 867Nm
✅ 324 HP↗
✅ 387 Nm↗
Stage 4:
- Forged Engine (piston & rods)
- TTE777 Turbo
- Upgrade Intercooler
- Milltek duel 80mm down pipe & Turboback exhaust
- IE Air intake
- Forge Turbo silicon inlet
- Sharp-Motorsport Upgrade injectors
- WMI stage 2 kit
- DVX outlet pipe
Custom DVX Engine Remap 98 octane fuel with WMI 2.3 bar
Custom DVX DQ500 Remap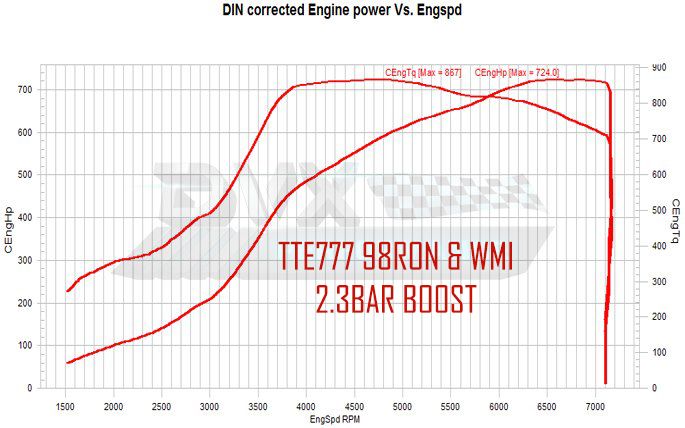 GOLF 7R DAZA MRC TUNING SOFTWARE 99 RON & OCTANE BOOSTER 2.2BAR
758HP 866NM (full torque before 3500rpm)
JASON'S RS3 EVOTECH BETA TESTING THE TTE777 2.5TFSI HYBRID
WE HIGHLY RECOMMEND THE STOCK RS SPORTS EXHAUST SYSTEM IS REPLACED FOR A MORE FREE-FLOWING SYSTEM IF WANTING OVER 600HP DUE TO BACKPRESSURE ISSUES AND WARRANTY COVER
Related links to "TTE777 EVO 2.5TFSI UPGRADE TURBOCHARGER"
Available downloads:
Info "TTE777 EVO 2.5TFSI UPGRADE TURBOCHARGER"
Please Note: We constantly review, revise and improve our product range, the product you receive may differ from the images advertised.
Read, write and discuss reviews...
more
Customer Review for "TTE777 EVO 2.5TFSI UPGRADE TURBOCHARGER"
Write an Review
Reviews will be activated after verification.